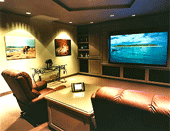 Crestron Programming - Residential
At One Step Logic, we have a great deal of experience with Crestron programming and design for residential systems. We can support your every need whether it is a custom home theater or a whole house or even multi-home automation system. One Step Logic is well versed with distributed A/V, Lighting, HVAC, Pool/Spa, Cameras, Gate/Door access, Multiple Media/Theater systems, Security, Weather, and more...
Our Certified Crestron programmer is skilled in the use of the latest technologies to offer you remote monitoring of systems, E-mail messaging, virtual panels using e-Control, wireless technologies, and support for the latest Crestron TPMC touch panels.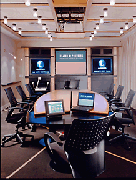 Crestron Programming - Corporate & Government
One Step Logic is able to meet any challenge in the corporate or government workplace and deliver Crestron programming and design that exhibits flawless operation under the most demanding conditions. Having served in the U.S. Air Force for 4 years, our Certified Crestron programmer was directly involved in developing and adhering to the strict specifications and requirements of a governmental organization and therefore understands the specific needs of such projects.
We have successfully done Crestron programming for corporate boardrooms, video conferencing, distance learning, and command & control centers. We offer the ability to implement help desk support, remote administration & monitoring, E-mail messaging, and room usage reporting. We offer these features through our talent with advanced Crestron programming technologies including E-Control, RoomView, E-Outlook, E-Dial, and more...